Pizza Hut Singapore

As many people know, Pizza Hut Singapore is the most popular and well known pizzeria in Singapore today. Pizza Hut chain of restaurants are recognised world wide for its pizza. In fact it has operations in 84 countries all around the world making it a truly household name.
Pizza Hut had been in Singapore since 1981. .It opened its first outlet which is situated at Jalan Jelita. Since then, Pizza Hut has been evolving and adapting to provide the best food and service to a very demanding and varied Singaporean pallet.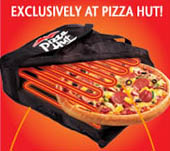 Home Delivery Service
In 1986, Pizza Hut Singapore introduced a Home Delivery service for pizza. By doing so, they made it possible for people who wants to hold parties at home or just dine in the comfort of their home. The home delivery service save the diners the trouble of going to an outlet, making it extremely convenient for Singaporeans.
During the delivery, the pizza tend to become cold as it is exposed to the temperature of the air in the environment. That was when Pizza Hut came up with an extremely useful tool-The Hot Pouch. The Hot Pouch ensures that the pizza is kept warm even after it has left the oven for some time, allowing the customers to have a piping hot pizza.
For more information and services, click here---> Pizza Hut
Pizza Hut Singapore Hotline: 6235 3535