Crusts are an important part of one's pizza experience. Crispy, chewy, thin or thick, the choices are staggering. An important part of how the crust turns out is actually the process of how the dough is made. So next time you see those pizza chefs spinning dough in the air, you know your crust is going to turn out more tender and crispier! Some crusts are even stuffed with ingredients like meat to make your food episode even richer, if you'd like.

There has been a flourishing of home delivered pizza outlets following its growing popularity. There are at least eleven pizzerias rivaling one another to satisfy this rising demand. Competition is fierce amongst these players.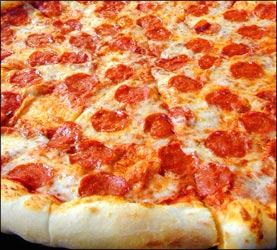 The major player on the scene is Pizza Hut. It pioneered the very first home delivery service in 1986, and sparked a trend. Since then, the number of home delivery pizza services has increased to more than a dozen.
At Pizza.sg, we provide you with a wide range of pizza selections and a broad variety of pizza hotlines at a click. If you fancy creating your own pizza, just click here for simple wonderful recipes.